On April 24th the North Shore Rotary held their annual "Service Above Self Luncheon recognizing two juniors from each of the eight North Shore area high schools.Vivienne Content and Grace Dykeman each received a $100 scholarship and a plaque recognizing them for their efforts in their school and community. Congratulations to Vivienne, Grace, and their counselor, Carly Roth.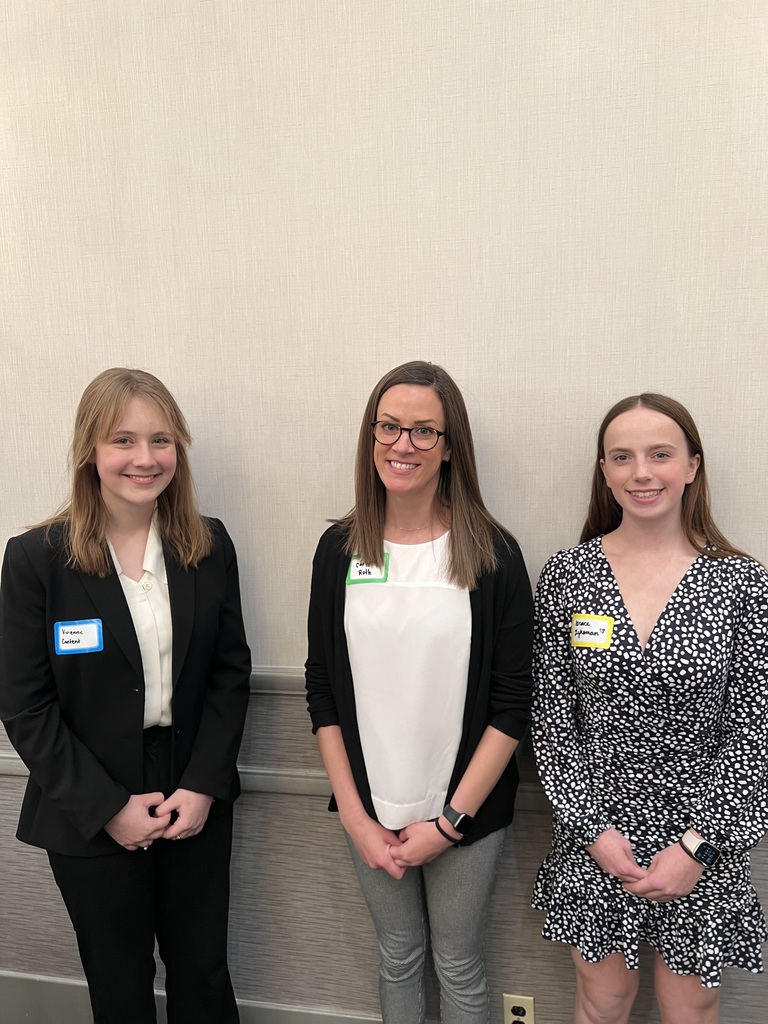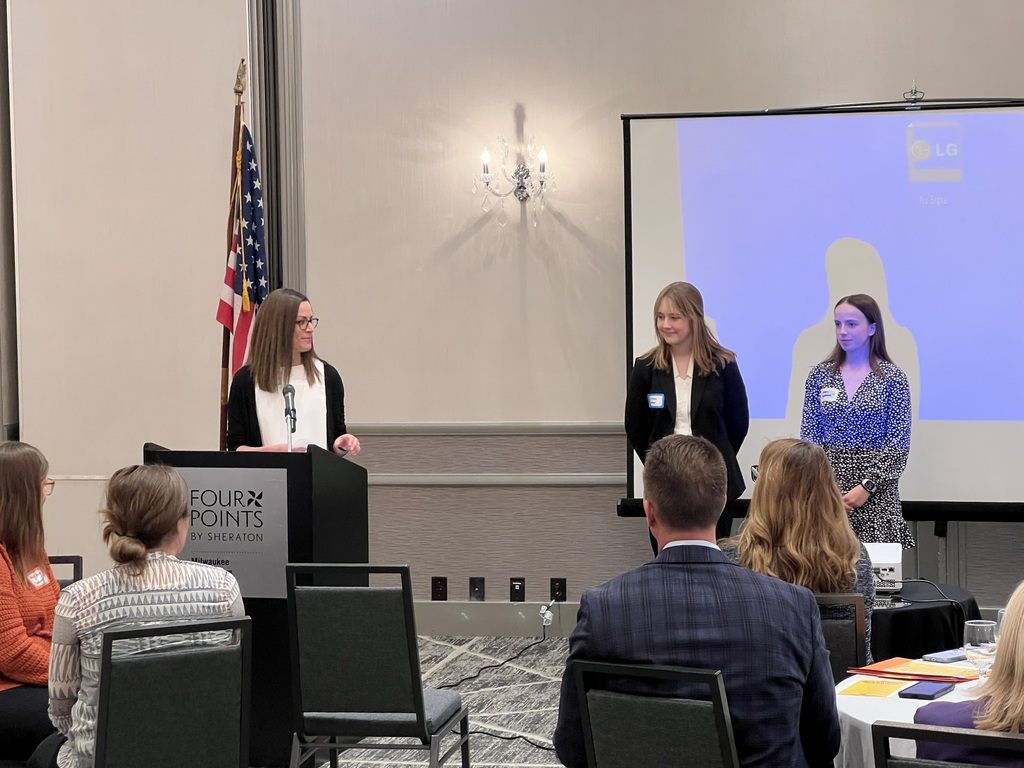 The Wisconsin Economic Development Corporation (WEDC) announced today that the Nicolet Union High School District, along with 24 others, is the recipient of a state grant to fund new fabrication laboratory (fab lab) facilities. We are delighted to join the 118 school districts across Wisconsin that have received #WIFabLab grants from the state.
https://wedc.org/fablabs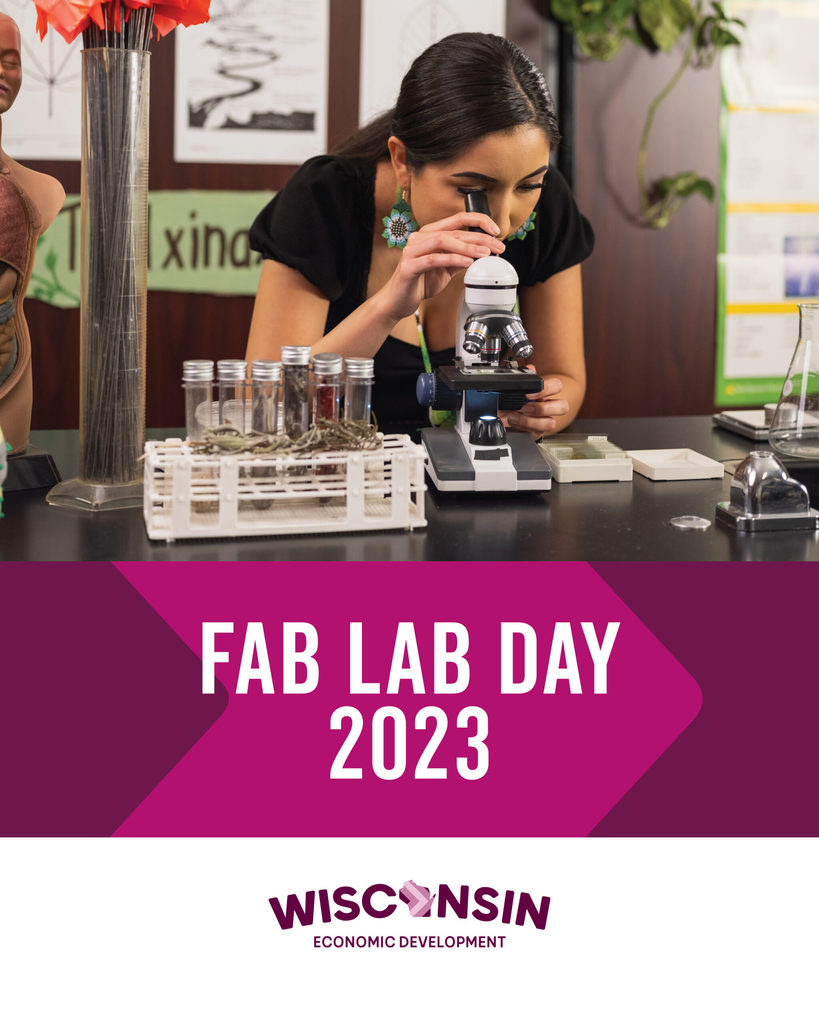 On Thursday, April 13th, Nicolet students took part in the German Day Competition at UW-Madison. The event brought schools from around the state to compete in seven different events. Buoyed by five perfect scores, the Nicolet contingent earned fifth place in this year's competition. Congrats to this year's German Day team: Petra Baker, Josie Breland, Ollie Bushman, Sienna Clarke, Maddy Cook, Leila Emir, Otto Figlesthaler, Thea Franecki, Tyler Friedel, Zoe Gapinski, Zoya Godil, Griffin Greguska, Piper Grimes, Vika Gutich, Hannah Janicik, Mia Kiefer, Roxie Kilbourn, Alex Loyda, Jack Loyda, Ben Mittag, Jayla Oyeleye, Avery Robbins, Ben Schaefer, Nolan Schultz, Lily Trimmel, Roman Widlansky Nicolet is one of only two schools that has participated in each of the 31 competitions and has won a total of seven state titles. Picture: Advanced students perform scene two from their skit set at the Berlin Wall East Side Gallery. Left to right: Hannah Janicik, Otto Figlesthaler, Tyler Friedel, Petra Baker, Avery Robbins, Olli Bushman

Looking for dinner plans Wednesday evening, May 3rd. Dine at The Brick and 10% of your bill will go to the Brittney Gigl Memorial Scholarship Fund.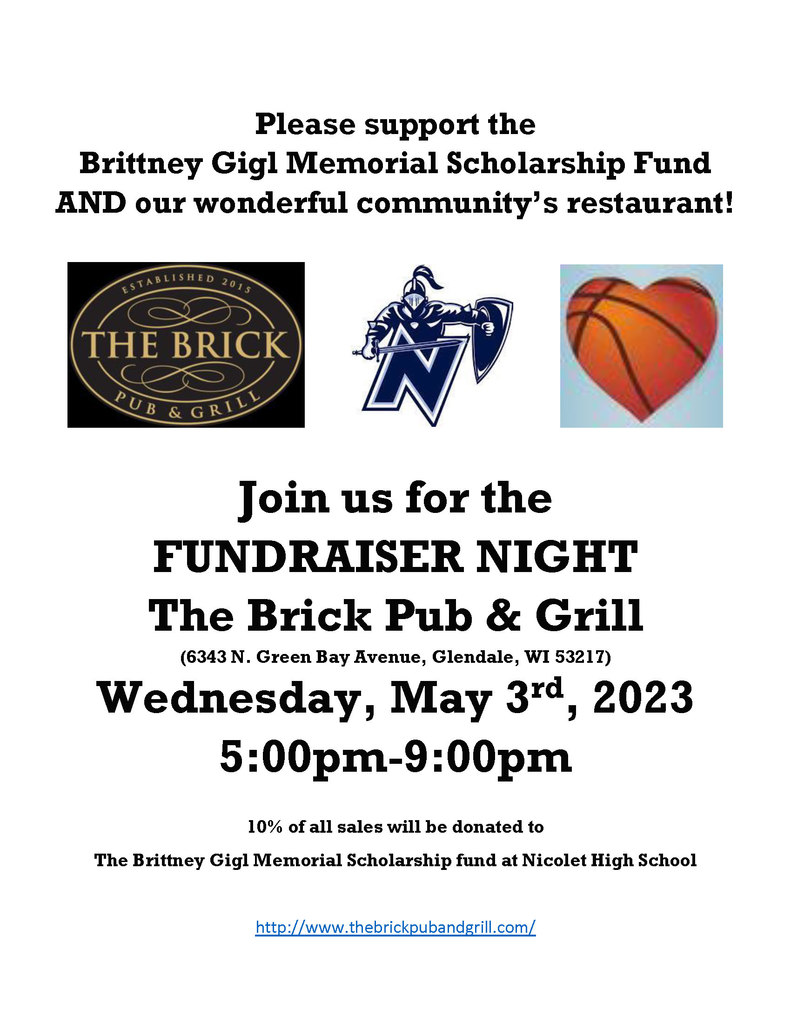 Happy Administrative Professionals Day❗ Your hard work does not go unnoticed. Thanks for all you do for the Nicolet Union High School District ✨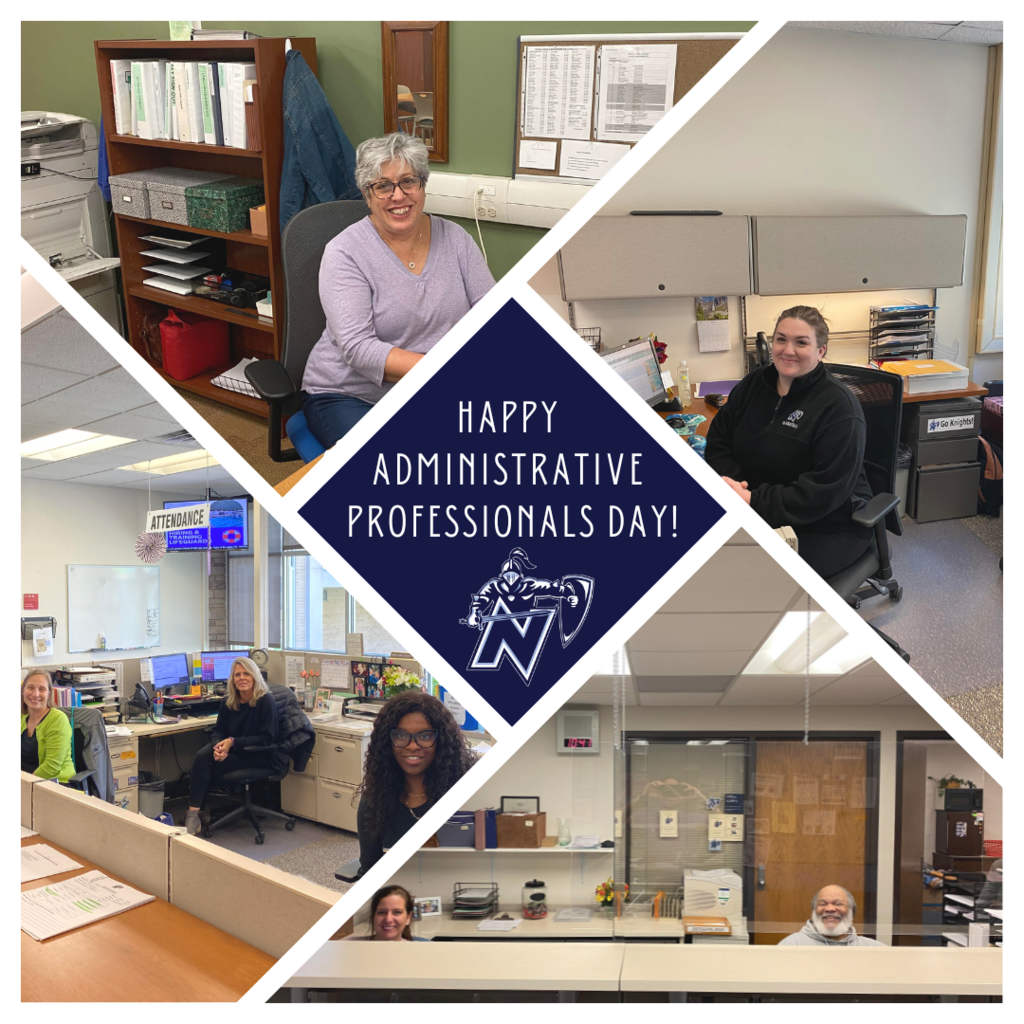 The Morehead-Cain Scholarship is a four-year, fully-funded educational experience for outstanding students interested in the University of North Carolina-Chapel Hill. Nicolet can nominate two students to apply for this scholarship who have demonstrated leadership, scholarship, physical vigor, and moral force of character. Morehead Cain Scholars are motivated, courageous, inquisitive leaders interested in embracing new experiences and having an impactful life. Interested in consideration, submit an email to Ms. Carter, School Counselor, detailing in a brief paragraph specific examples of how you have demonstrated these qualities. The deadline is 3 pm, Friday, May 5, 2023.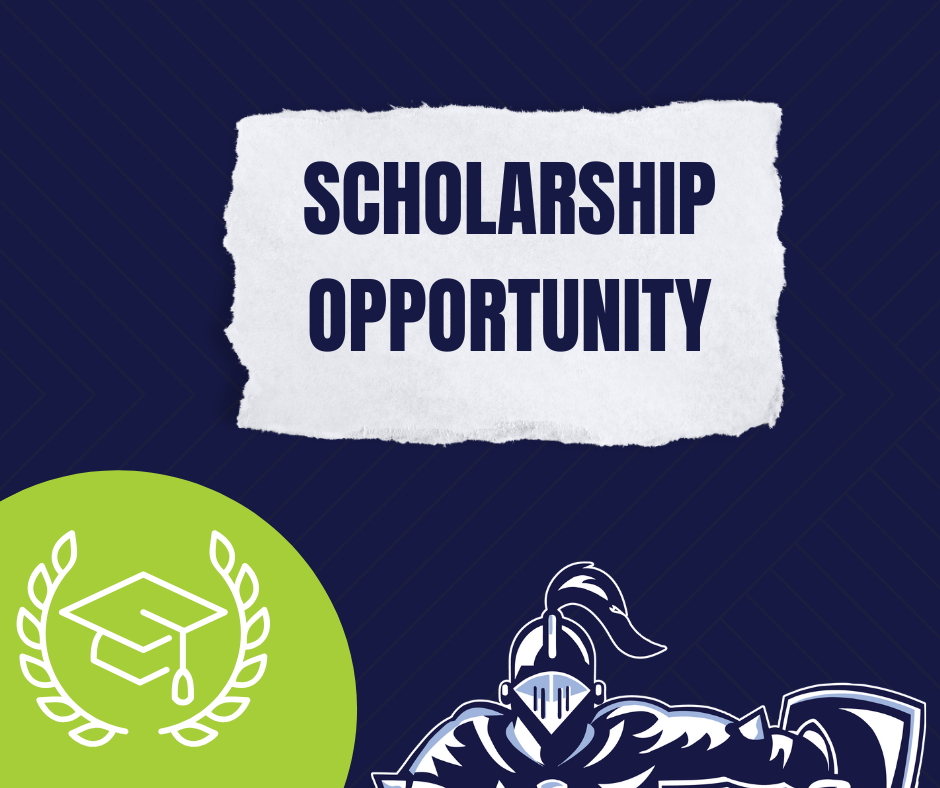 SafeTALKSuicide Prevention Training Thu - 5/4 at 3:30pm - Nicolet HS Acquire the tools to identify and help individuals with mental health challenges and get trained in suicide alertness skills. Dinner will be served FREE for high school students RSVP ➡ fcwi.org/safetalk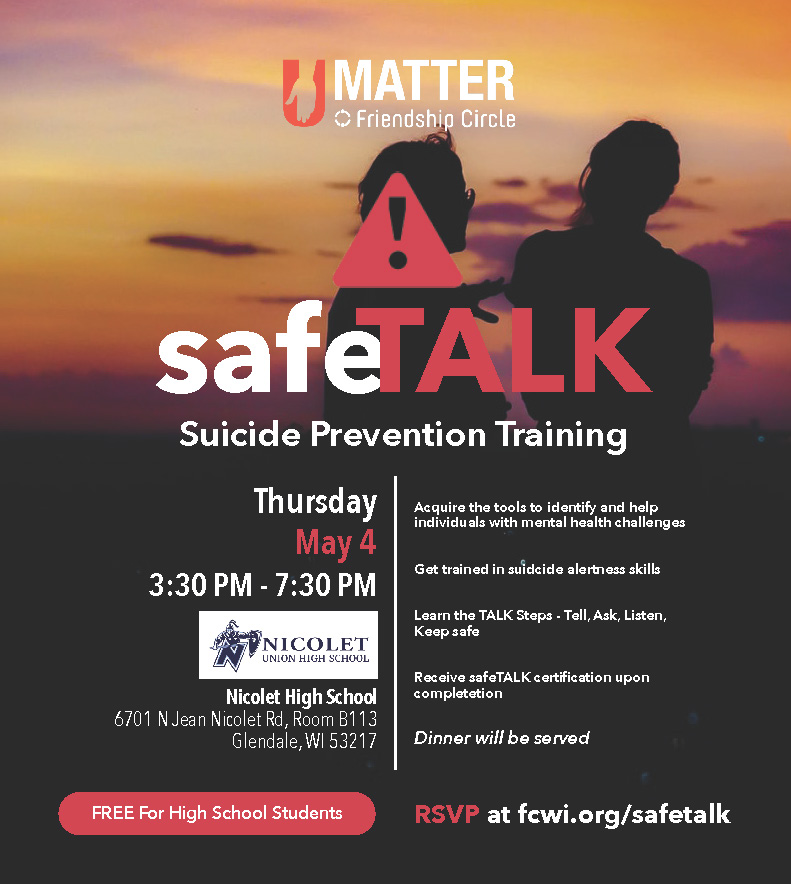 National History Day Nicolet students participated in the state contest in Madison on Saturday, April 22 at UW Madison. Team members included Freshmen Julianna Franklin, Tessa McCutchen and Natalia Probst and Seniors Daisia Golombowski, April Hellman and Laine Sperry. April Hellman's documentary "Lewis Hine: photographic pioneer" won the Chronicling America Award, sponsored by the Wisconsin National Digital Newspaper Program and she is 1st alternate for the national NHD Contest. Laine Sperry's documentary "Florence Kelley: Frontiers in Labor History" won the American Labor History Award, sponsored by the Wisconsin Labor History Society and she will represent Nicolet and the State of Wisconsin at the national contest in College Park, MD in June. Congratulations 👏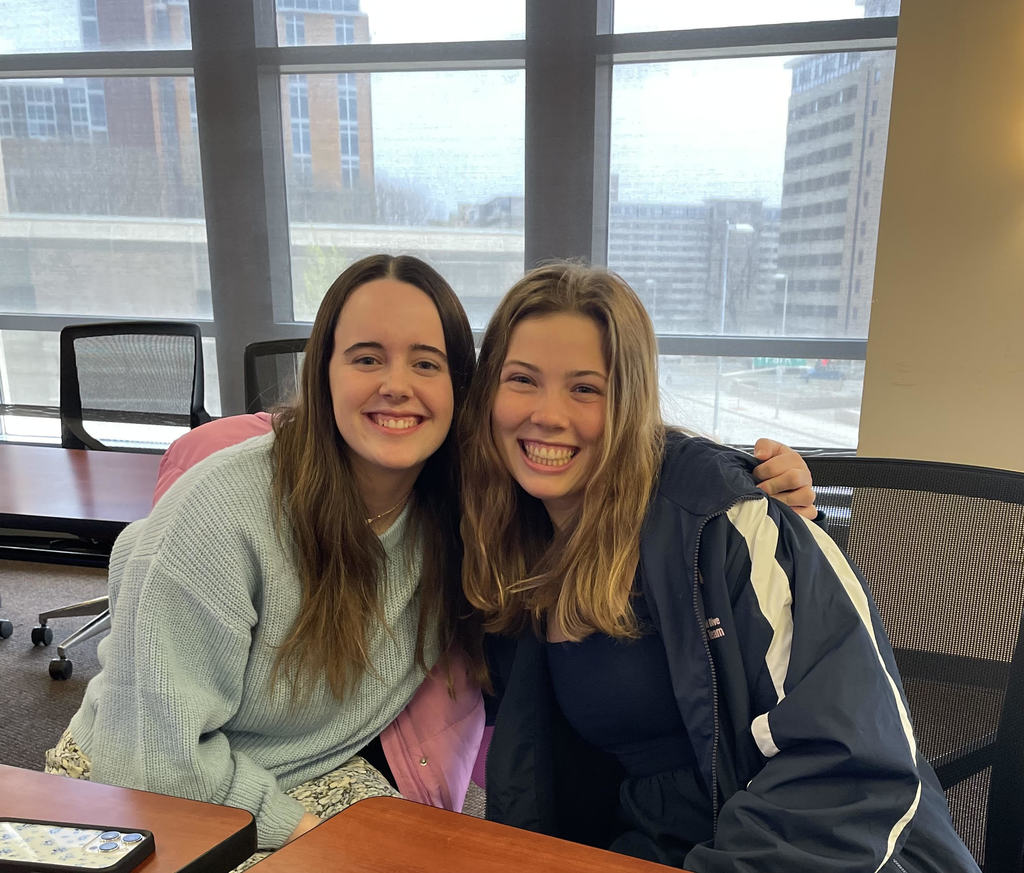 Nicolet families and community members are invited to stop by the Community Room on Thursday, May 4, any time between 8:00 a.m. and 9:00 a.m. to join Superintendent Dr. Kabara for coffee and bagels. Dr. Kabara will host these open house-style listening sessions on a quarterly basis to give members of the Nicolet community an informal opportunity to grab breakfast and ask Dr. Kabara a question, voice a concern, talk about the district or simply chat. If you have questions, please contact Amy Lee at
amy.lee@nicolet.us
or 414-351-7520.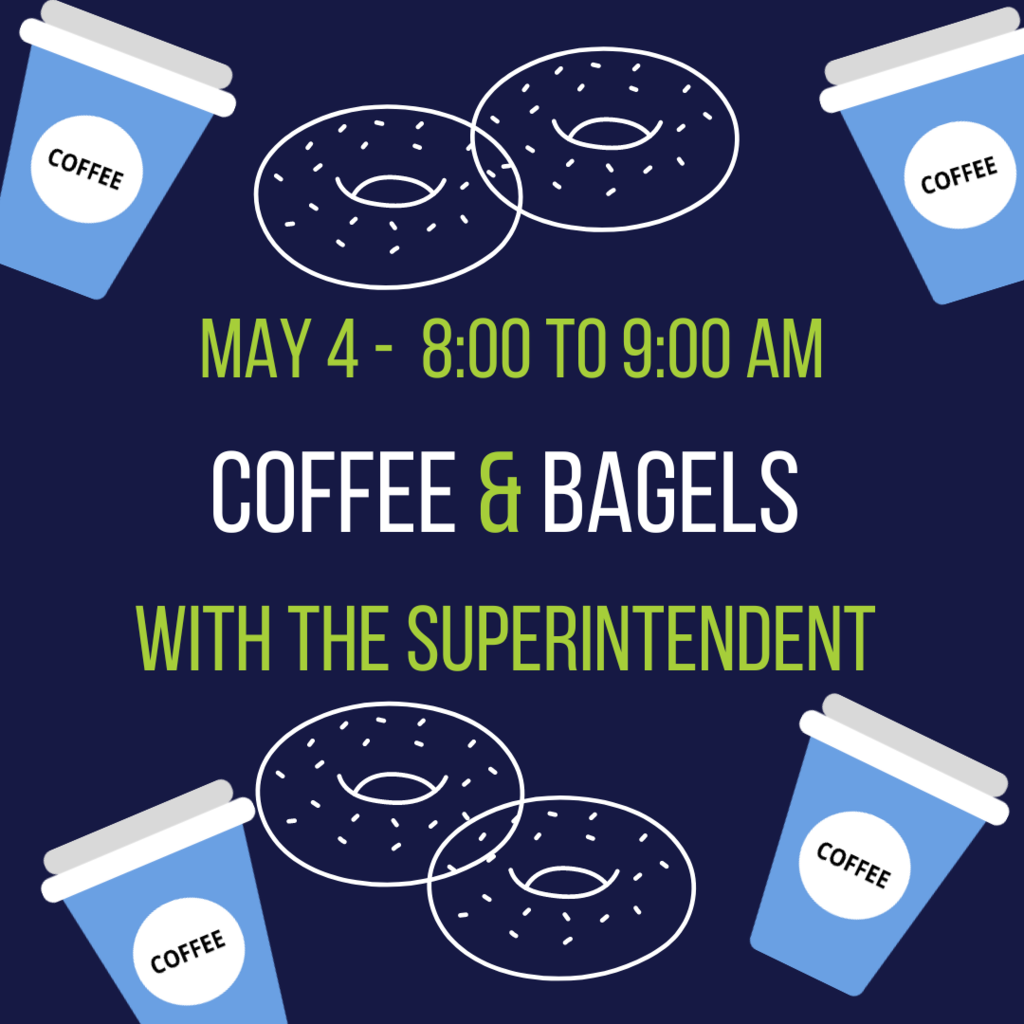 The French Honor Society Induction Ceremony took place on Wednesday. 11 new members were inducted. Graduating seniors received their honor cords as well as their Seal of Biliteracy certificates and cords. The ceremony was followed by a reception with a cheese tasting. Congrats👏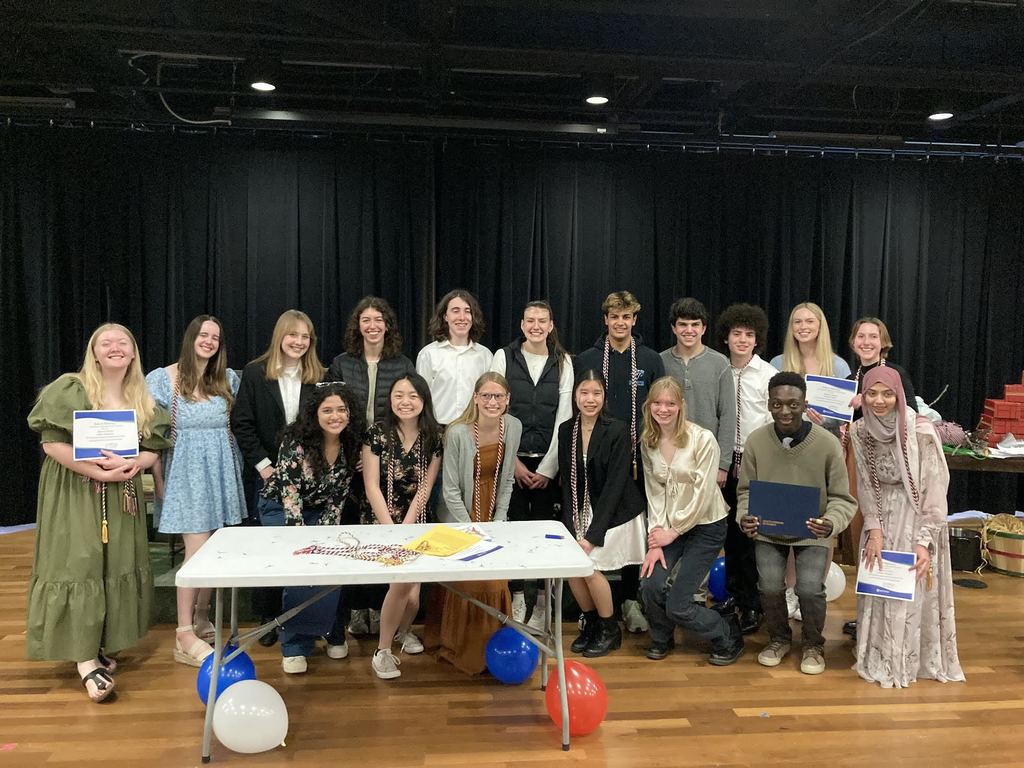 Stacker compiled a list of the 30 best public high schools in Wisconsin using 2023 rankings from Niche. Nicolet Union High School is ranked #️⃣8️⃣ of all public high schools in Wisconsin receiving an A+ grade❗ For more info ➡
https://bit.ly/3UTSdF7


Congratulations to our March Students of the Month , and a special shoutout to Jet's Pizza, Stone Creek, Chick-Fil-A, The Brick, and Marcus Theatres for their continued support and prize donations for our winners!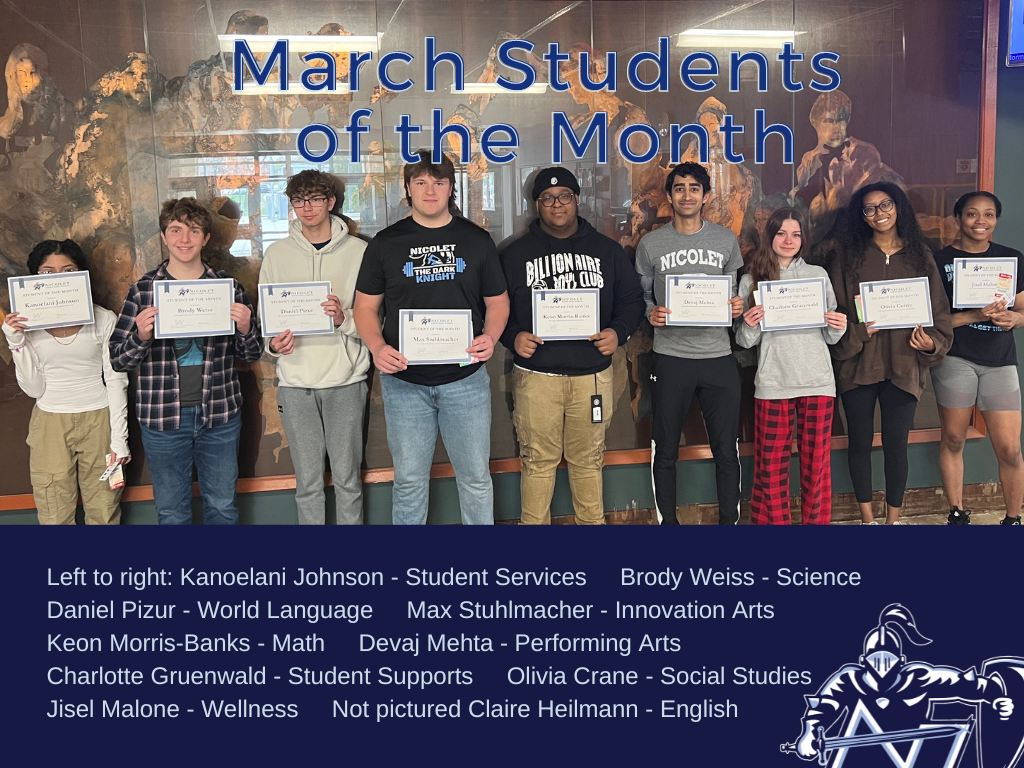 Congratulations to the Spanish Department and the 26 students who participated in the Wisconsin Pronunciation Contest. Of the 26, 21 won Gold Medals!! Earning gold in the advanced category: Lauren Abbott (2 medals), Quinn Paulsen (2 medals), Grace Dykeman (2 medals), Abigail Alinda, Kylie Kebbekus, Taylor Wilson, Leah Gaffney, Stella Beidel, Tyler Friedel, Carolina Pierri, Greta Carlson, Liana Lima, Georgia Holton, Joey Drouin, Alyna Hildenbrand. In the intermediate category, Darian Rosenthal, Jonathan Lee, Lauren Paulsen, Elizabeth Twomey, Magdalena Rosas-Sarmiento, Anacamila Alvarez took home gold medals.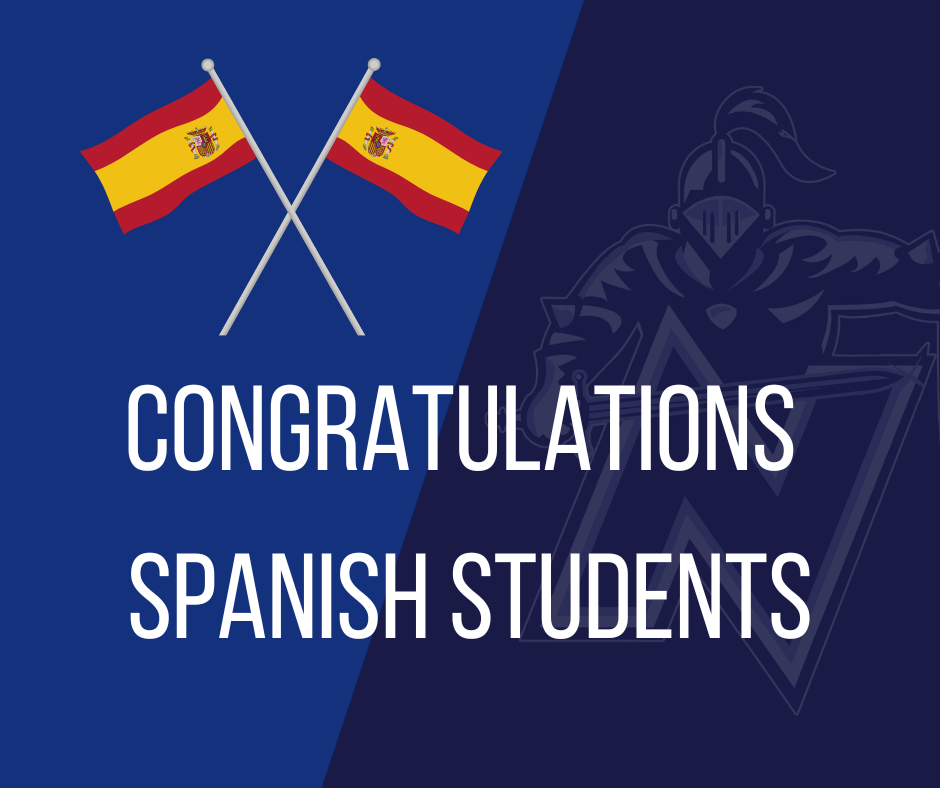 Nicolet High School is proud to announce that our Girls Volleyball Head Coach Dann Jacobson has been selected to be inducted into the Wisconsin Volleyball Coaches Association Hall of Fame. The 2023 induction class will be honored at a ceremony in conjunction with WVCA Coaches Clinic on August 5th, 2023. The ceremony will be held at the Holiday Inn Conference Room in Appleton, WI. Jacobson has been teaching at Nicolet since 1990 and has coached at Nicolet High School as the Girls Volleyball Head Coach since 1996. In addition to a Sectional Championship and a State Tournament berth in 2009, Dann has led the Knights to 13 Regional Championships, 6 North Shore Conference Championships, has been named Conference Coach of the year 7 times, Sate Coach of the year 1 time, has nearly 600 career match victories and has helped guide over 100 Nicolet players to the North Shore All -Conference teams. Congratulations Coach Jacobson 👏 #knightforlife

Congratulations to Jamin Hoffman, Rebekah Stege his student teacher, and the orchestra students for a fabulous weekend at the World Strides Anaheim Heritage Festival. They received a Silver award (second place in their division) and Samantha Soens received a Maestro Award for her violin solo in Isma'a (a piece based on traditional Arabic themes, arranged by Leanne Darling). In addition to Disneyland the students did a walking tour of Paramount Studios and a separate Hollywood bus tour, including lunch at the Los Angeles Farmer's Market.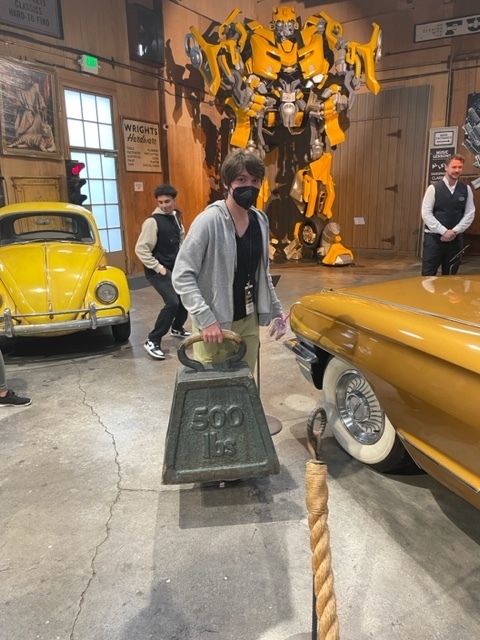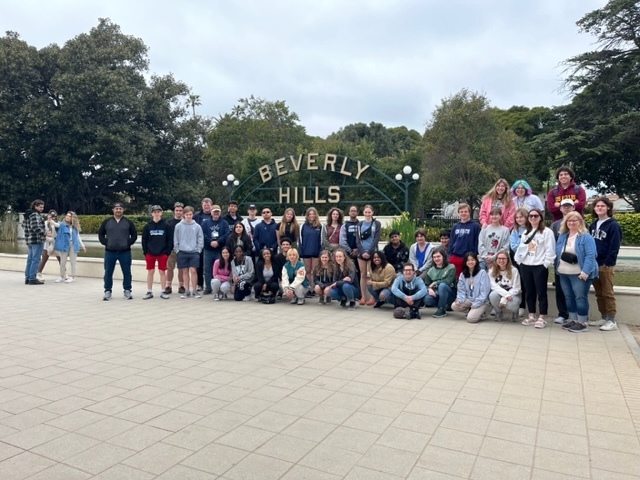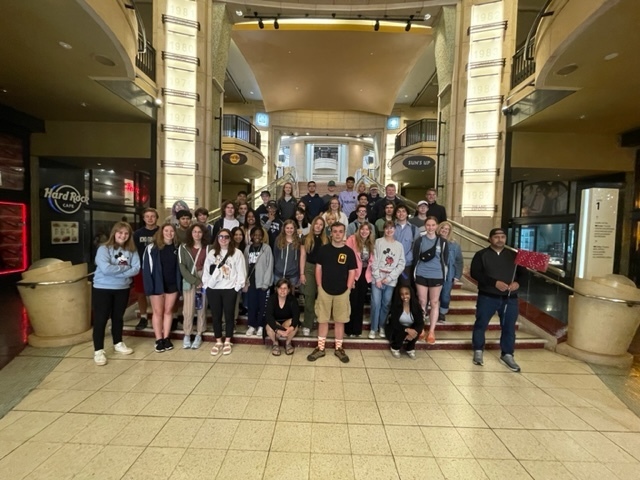 Nicolet High School has begun a search for a new Head Girls Basketball Coach. Nicolet would like to find a dynamic and experienced coach to help develop the Lady Knights youth program and lead our high school athletes back to the top of the North Shore Conference standings. The new coach will be provided with all the resources needed to build a successful and sustainable high school girls basketball program. More information can be found on WECAN.

Nicolet FEAR Team 4786 will be competing in the FIRST Robotics Competition - World Championships in Houston, TX starting on April 19th 🤖 Watch the team in the championships by visiting ⤵
https://www.thebluealliance.com/
(Galileo Division) Good luck ❗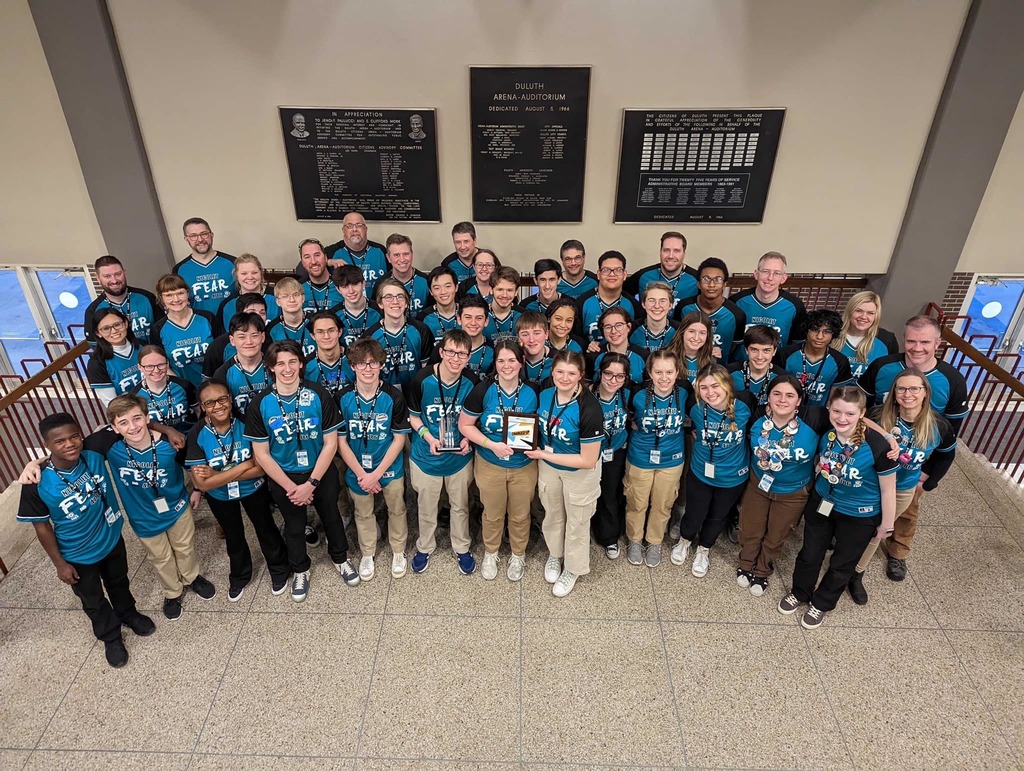 Nicolet Choir invites the community to "Royal Tea" on May 13th at 10a in the Nicolet cafeteria❗ Dress up as your favorite fairy tale character prince or princess for a sing-along Tea Party🍵 Purchase your tickets by visiting ⤵
https://nicolet.revtrak.net/choir/royal-tea-party/

Nicolet High School would like to thank Coach Gus Kaufmann for his years of service and dedication to Nicolet High School. Coach Kaufmann recently resigned as the Nicolet Head Wrestling Coach, a position he held for the past 21 years. He plans to spend more time coaching his own children in the Nicolet Jr. Knights youth wrestling program, which he was instrumental in developing. Coach Kaufmann led the Nicolet wrestling program to unprecedented levels of individual and team success. He coached teams to a NSC (North Shore Conference) Dual Conference Championship, a NSC Conference Championship, 3 Regional Championships, a Sectional Championship, a Team State Tournament berth and 120 dual meet victories, most in school history. He also coached 36 individual state qualifiers including 4 state finalists and 2 state champions. Gus also served 16 years as the pole vault coach for the track teams, taking 10 pole vaulters to the State Tournament. "It has been an honor and a privilege to serve as the Nicolet Head Wrestling Coach for 21 years. I have a tremendous sense of pride in the program, the school and the community. The support and time many people have committed to Nicolet Wrestling over the years is what has gotten us to where we are today. It is now my turn to coach at the youth and middle school level while supporting the high school program into the future," said Kaufmann. A search for a new coach has begun, information can be found on WECAN.