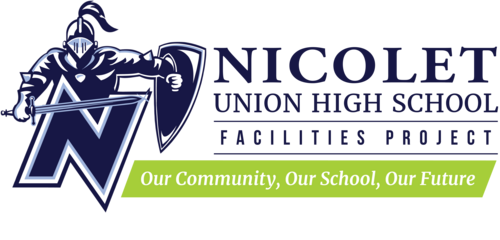 Thank you Voters!
Our Community, Our School, Our Future
On Tuesday, April 5, 2022, voters in the Nicolet Union High School District approved a $77.4M facilities referendum that will address significant building and campus-wide needs. This comprehensive project will enable us to create the learning environments outlined in our Facilities Vision:
Nicolet High School strives to accelerate the achievement of every student. We believe our facilities should enhance learning and improve academic performance by:
Providing a safe, well maintained, sustainable and welcoming environment that promotes student and staff wellbeing

Promoting a culture of inclusion, school pride and community partnership

Creating flexible spaces that support student and staff collaboration

Ensuring opportunities for community education and recreation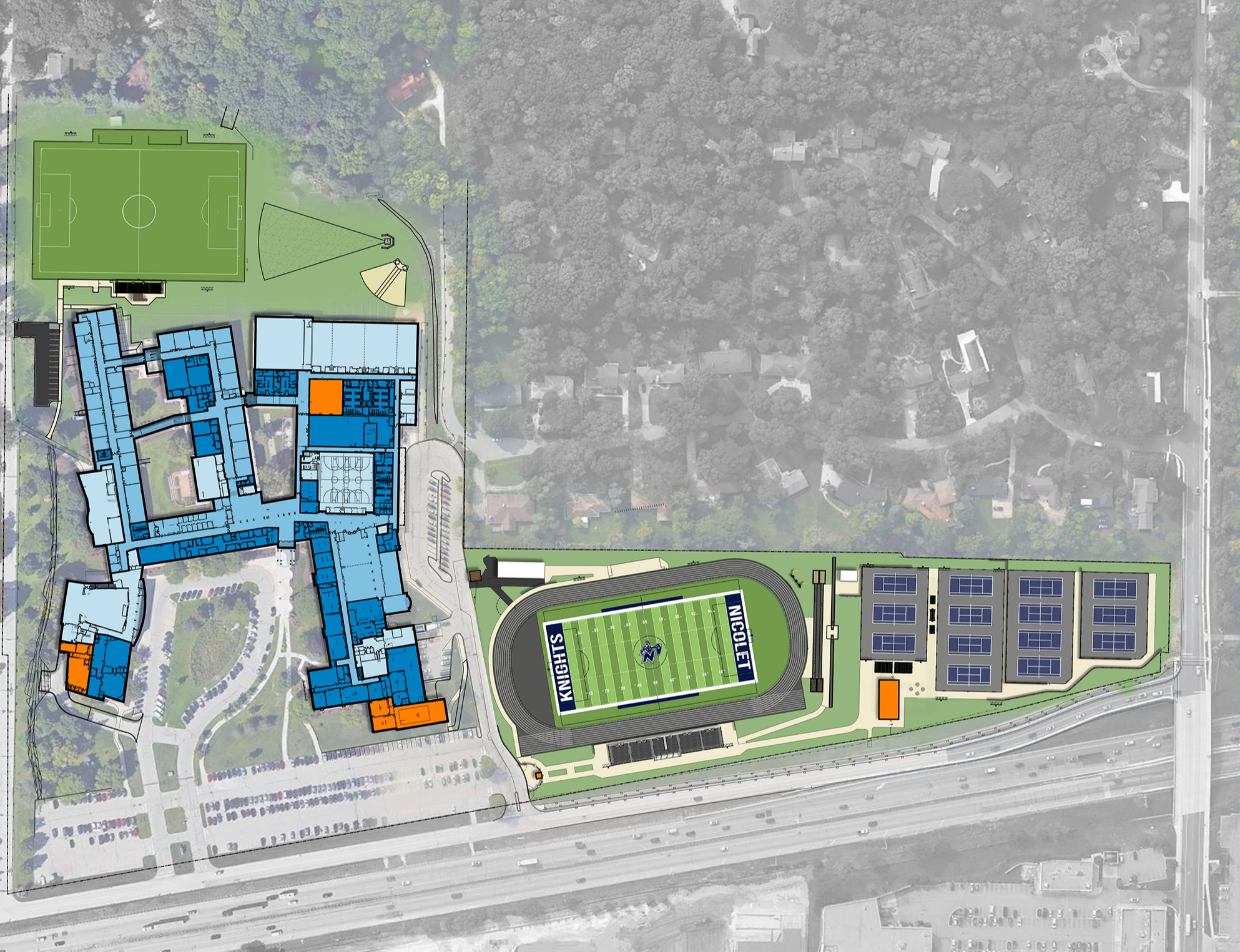 We know that construction will be stressful and challenging for all of us. Please know that we are here to support you throughout the process. here are a few updates we wanted to share:
1. Workers - All Findorff workers and subcontractors will be undergoing background checks prior to working onsite. Findorff will be coordinating this process and this will be occurring in their job site trailer (to be located over Spring Break near the North grass area of the circle turnaround). Findorff will be keeping a running log of workers onsite, when they are onsite, and that they worker has successfully completed the background check process.
Workers will be identified by a Nicolet job site sticker on the FRONT, RIGHT side of their helmet.
2. Parking and Turnaround Impacts - Findorff will need to claim approximately 30 parking spaces at the North West end of the main student parking lot to begin construction on the B Wing addition (marked in red). If students with a parking permit arrive in the student lot and all student spaces are filled, please proceed to park in the staff lot on the South East end of campus (in Yellow on the map). Additionally, one of the "turnarounds" will be closed; the remaining two will continue to be available.
3. Construction Areas (Interior) - There will be several areas of campus impacted by temporary walls when we return from Spring Break on the 27th. The primary areas, inside the building, that will be impacted and where temporary walls will be installed are: the current District Office Area and the areas of F128/F118 in Lower F. Additionally, many ceiling tiles in the hallways will be removed. This will NOT impact lighting, fire alarms, or any safety systems within the building.
Questions?
Superintendent Dr. Greg Kabara would love to connect with you should you have any questions, email him at greg.kabara@nicolet.us or call him at (414) 351-7525. You can also submit questions through this google form.