Nicolet Athletic Hall of Fame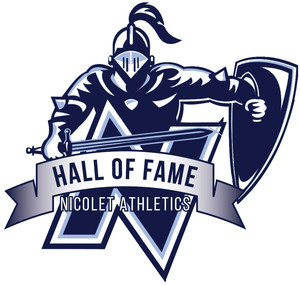 Nicolet Union High School Announces 2023 Athletic Hall Of Fame Class
Nicolet High School is proud to announce that seven candidates have been selected to the Class of 2023 Nicolet High School Athletic Hall of Fame. The candidates include six athletes: Jeffrey Hogan (Class of '73-Football/Track), Mark Nighbor (Class of '79-Football, Basketball, Baseball), Michael Dierberger (Class of '06-Tennis), David Dunlap (Class of '17-Track), Brittney Fair (Class of '12-Basketball), Bohdan Nedilsky (Class of '85-Soccer) and one Distinguished Service: Renee Tazalla (1994-2021) .
Jeffrey Hogan was a football and track star who set many school records. Mark Nighbor was a three-sport all-conference athlete who set several conference records. Michael Dierberger is one of the most accomplished tennis players in school history with three individual state titles. David Dunlap is the greatest track athlete in school history with five school records and three state titles. Brittney Fair is the school's all time girls basketball leader in points, steals and games played. Bohdan Nedilsky is the first great soccer player in school history, leading his team to their first state tournament in 1983. Renee Tazalla was an all around athletic contributor who served in many school roles over a 27 year career including coach, scorekeeper and administrative assistant.
The Nicolet Hall of Fame honors former student athletes, coaches and other individuals who have provided distinguished service to Nicolet High School athletics. A Hall of Fame Committee comprised of Nicolet Athletic Staff, past and present, chose the seven individuals from a large pool of nominees.
Specific criteria for each of the three nomination categories – Athlete, Coach and Distinguished Service – can be found online here.
"We're proud of the many great athletes and coaches of Nicolet's past and present," said Nicolet Athletic Director Kirk Krychowiak. "We look forward to honoring another great group of inductees for their hard work and dedication to Nicolet athletics."
The candidates who make up the class of 2023 will be honored at halftime of the Nicolet Varsity Football game when it hosts Whitefish Bay on Friday, October 6th. There will be a dinner/induction ceremony in the Knights Hall at Nicolet High School beginning at 4:30pm followed by the football halftime recognition in the new Nicolet Stadium. Dinner/Ceremony tickets will be available to the public beginning September 11th. Call 414-351-8145.
Nicolet High School Congratulates all the inductees and their families!
Nicolet High School celebrates its outstanding athletic tradition by naming former Nicolet athletes, coaches, and friends of the athletic program to the Nicolet High School Athletic Hall of Fame. The Athletic Hall of Fame recognizes individuals for:
The successes he or she achieved while being a student-athlete at Nicolet.

The successes he or she achieved while serving as a coach at Nicolet.

Distinguished service to Nicolet High School athletics.