Nicolet Girls Youth Basketball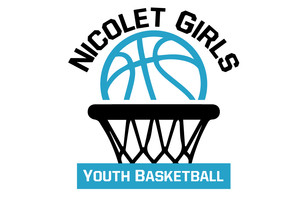 The Nicolet Girls Youth Basketball Director and Coaches are committed to making this youth basketball program a great experience. NGYB is designed to advance fundamentals of basketball and to develop leadership, teamwork, patience, self-respect and the respect for other players and coaches. Girls will play in a competitive environment to help gain experience and potential interest to play in MS and HS. We applaud the efforts of the team and reinforce the importance of teamwork to our players. All efforts are made to ensure quality playing time for all participants.
Nicolet Girls Youth Basketball program is open to girls attending a school in the Nicolet Partner School District who will be attending grades 3rd through 8th during the year of participation. All participants are provided an opportunity to contribute to their team through practice and game-day participation.
Teams practice typically 1-2 times a week beginning in October into March at Nicolet High School. League games will be played on Sundays at Brown Deer High School. In addition they will play in three different local tournaments. This program's intent is to provide a complete experience to participants and parents alike.
The Nicolet Girls Youth Basketball program participants need to attend and register for the evaluation day on
Sunday, September 18th from 2:30 - 4:30pm at Nicolet High School in Gym 1. There is no charge to attend the evaluation, but participants must register prior to participate. Full refunds are available through October if your child does not want to continue in the program.
Registration Fee: $195.00
Cost includes league & tournament fees, equipment and facility costs to practice. Uniforms costs are separate, approximately $60.00. More information on how to purchase a uniform will be provided at a later date.
Questions, contact Caleb Franklin at: caleb.franklin@nicolet.us