Lady Knights Fastpitch Softball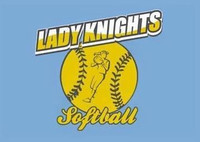 Lady Knights is a select fastpitch softball program. It is open to girls in second through ninth grade living in the Nicolet Partner School District. The program is designed to advance fundamentals of fastpitch softball and to develop leadership, teamwork, patience, self-respect and respect for other players and coaches. We are looking to form U12, U14 and U16/U18 teams for the 2022 season.
Please register asap through the Nicolet Recreation Department. We need early commitments so teams can be formed and schedules can be available by mid March 2022.
Teams practice typically 2-3 times a week beginning in May. Clinics are offered during the off-season for a minimal fee. Games and/or tournaments take place in May through July. This program's intent is to provide a complete experience to participants and parents alike.
In order to play for the Lady Knights Fastpitch Softball program participants need to attend and register for the evaluation day at the Maslowski Park Knights Softball Stadium on Sunday, September 25 from 12:00 - 2:00pm.
There is no charge to attend the evaluation, but participants must register prior to participate.
Questions, contact Caleb Franklin: caleb.franklin@nicolet.us
Registration Fee: $225.00
Plus uniform cost. Fees are used for league costs, tournament fees, equipment, umpire fees and practice space rental.