Jr. Knights Youth Tackle Football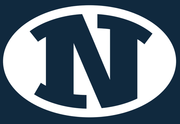 The Junior Knights are committed to making this youth football program a great experience. Junior Knights football is designed to teach the basic fundamentals of tackle football and to develop leadership, teamwork, patience, self-respect and the respect for other players and coaches. The objective of the Junior Knights program is more about learning than winning. We applaud the efforts of the team and reinforce the importance of teamwork to our players. All efforts are made to ensure quality playing time for all participants.
The Junior Knights youth tackle football program is open to all students residing or attending school in the Nicolet Partner School District who will be attending grades 5th through 8th during the year of participation. All participants are provided an opportunity to contribute to their team through practice and game-day participation. All necessary practice and game-day equipment is furnished by the Junior Knights program with the exception of football cleats.
The program starts with pre-season practices beginning August 9th at the Nicolet High School practice fields. Games will begin in September on Saturdays. This program's intent is to provide a complete experience to participants and parents alike.
Questions, contact Caleb Frankllin at caleb.franklin@nicolet.us